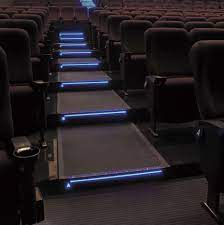 NAKA Hi-Step LUNA – LED Stair Nosing
Hi-Step LUNA is Stair-Nosing with build-in LEDs. It provides for safe navigation up and down stairways in the dark with an unobtrusive indication of the outline of the stairway faulting.
Since the illumination comes from LEDs, this is a product that not only conserves electricity, but also enjoys a long maintenance-free service life.
It provides a higher level of interior dècor and safety by its staging of light in settings of all types, including cinema complexes, theatres, commercial shops and the like.
Item No.: Hi-Step_LUNA
Brand: NAKA
Use: Stair Nosing
Type: LED Luminous Stair Nosing
Type of fixing: Post Installed
---