MASON C-RE 585
Epoxy Technology
The pure epoxy technology is the advanced high performance chemical anchoring technology with an outstanding chemical resistance and industrial strength. Good compound properties achieve outstanding load values, always giving professional solution for specialized applications.
Product Description
MASON C-RE 585 mortar is a 2-component reaction resin mortar based on a pure epoxy and will be delivered in a exclusive 2-C cartridge system. This high performance product may be used in combination with a hand-,battery-, pneumatic tool and a static mixer. It was designed especially for the anchoring of threaded rods, reinforcing bars or internal threaded rod sleeves into concrete (also porous and light) as well as solid masonry. Based on the excellent standing behaviour the usability in combination with a special plastic sleeve in hollow material is given. MASON C-RE 585 mortar product is characterised, by a huge range of applications with an installation temperature from +5°C and a service temperature up to 72°C as well as by high chemical resistance for applications in extreme ambiences e.g. in swimming pools (chlorine) or closeness to the sea (salt). The wide range of certificates, national and international approvals, allows nearly every application.
Special Properties and Benefits
For heavy anchoring – doweling and post-installed rebar connection
Hammer drilled and diamond drilled holes possible 
Overhead application; waterfilled bore holes applicable
Suitable for attachment point close to the edge, since anchoring is free of expansion forces
Suitable for dynamic load; Cracked concrete applicable 
High-bending and pressure strength 
Strong and secure anchoring even underwater
Mortar is water-impermeable acc. to DIN EN 12390-8
Fire-resistance and high chemical resistance
Low shrinkage: ideal for larger annular gap
Low odour
Safe for use as a component in a drinking water system
Flexible working time at elevated temperatures
Mechanical properties acc. to EN 196 Part1: –

Density: 1,41 kg/ d

m

2
Compressive strength: 137 N/m

m

2
Bending strength: 47 N/m

m

2
Dynamic modulus of elasticity: 3240 N/m

m

2

Resealable cartridge: can be reused up to the end of the shelf life
Approvals and Achievements
European Technical Approval 
ETA -14/0206 for C-RE is a European approval acc. to EN 206:2000-12 in cracked and uncracked concrete (Option 1 and 7) for a bonded anchor (injection type) with anchor rod and rebar.
ETA -14/0201 for C-RE is a European approval for post-installed rebar connection acc. to EN 206-1:2000 and Eurocode 2 design method.
Centre Scientifique et Technique du Batiment (CSTB) France
C-RE is 4 hrs fire resistance tested by CSTB.
Housing & Development Board
HDB Approved Material with Tensile & Shear Test Report (Adopted ETAG 001)
International Code Council-Evaluation Service
ICC-ES for C-RE is an US approval acc. to AC 308 in concrete: ESR-2538 for a bonded anchor (injection type) with anchor rod & rebar.
National Sanitation Foundation
NSF/ANSI Standard 61 recognized C-RE is safe for use as a component in a drinking water system.
LEED and VOC Tested
LEED Green Product and Volatile Organic Compound Tested
SETSCO (Singapore)
Product Performance Verified by SETSCO Ultimate Tensile Pullout Test Report
SIRIM QAS International (Malaysia)
Product Performance Verified by SIRIM Tensile Test Report No.2012CB6972
Reactivity
Application and Intended Use
Base materials:
Cracked concrete, non-cracked concrete, light-concrete, porous-concrete, solid masonry, natural stone; hammer drilled and diamond drilled holes 
Anchor elements:
Threaded rods (zinc plated or hot dip, stainless steel and high corrosion resistance steel), reinforcing bars, internal threaded rods, profiled rod, steel section with undercuts (e.g. perforated section)
Temperature range:
+5°C up to +40°C temperature of the base material; cartridge temperature min. +5°C; optimal +20°C; -40°C to+72°C base material temperature after full curing
Product Accessories
C-RE 385ml                C-RE 585ml                         Special Static Nozzle                 Universal Dispenser                    
                 (Pure Epoxy 3:1)
              Blower                               Plastic/Steel Wire Brush                                  Threaded Rod
                                                                                                                                  (Chemical Bolt & Nut)
C-RE 585 Tensile Pull-Out Test Method
1) Place the loading frame over the rebar/ threaded rod  anchor to be tested.
2) For threaded rod testing, connect the coupler with high tensile threaded rod to the anchor to be tested.
3) Place the suitable hollow plunger cylinder on the frame and through the rebar/ anchor.
4) For rebar testing, assemble the rebar wedge c/w wedge blocks on the set up. Apply a firm tap on the wedge to have full engagement of the rebar.
5) Connect the hydraulic hand pump, pressure gauge and hose assembly and then check for the leakages.
6) Apply the load gradually to the required proof load (design load for non-destructive testing) or ultimate load (for destructive testing).
7) Observe the mode of failure.
8) Record the achieved load and mode of failure.
C-RE 585 with Rebar Testing
Common Rebar Failure Modes
C-RE 585 with Threaded Rod Testing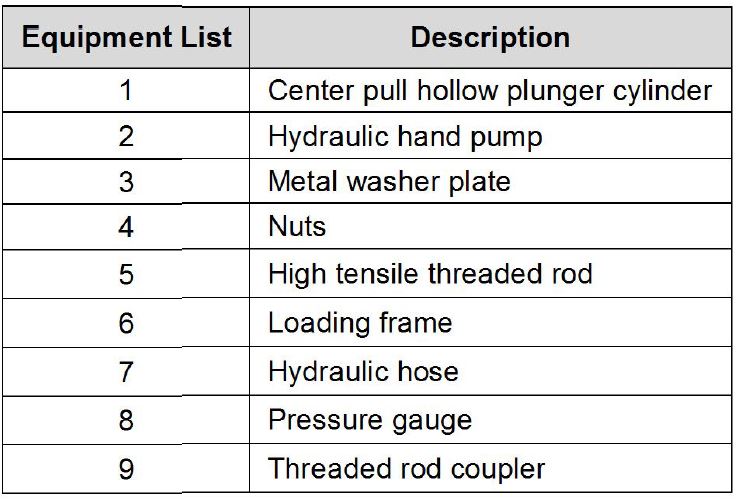 Common Anchor Failure Modes
*General possible causes: 
Improper hole cleaning method
Improper mixing of resin & hardener 
Insufficient chemical amount
Insufficient curing time
Insufficient embedment depth
Pure Epoxy Chemical Injection Anchor Comparison Chart
Mason C-RE
Hilti RE500
Hilti RE500SD
Fischer FIS EM
Spit Reo 502
Dewalt Pure150 Pro
Dewalt Pure110 Pro
MKT VME
Multifix MF-EX1
Azfast ST29
Ramset G5
Mason MCA-PE3
Resin: Hardener Ratio
3:1
3:1
3:1
3:1
1:1
3:1
1:1
3:1
3:1
1:1
1:1
1:1
Manufacturing Country
Germany
USA
USA
Germany
Australia
Germany
Germany
Germany
Taiwan
Spain
USA
Germany
ETA Option 1 – Cracked Concrete
✓

×
✓
✓
✓
✓
✓
✓

✓

✓

×

×
ETA Option 7 – Non-cracked Concrete
✓
✓
✓
✓
✓
✓
✓
✓
✓
✓

×

×
ICC-ES
✓
✓
✓
✓
✓
✓
✓
✓
✓
✓
✓

×



NSF
✓
✓
✓

×
×
✓

×

×

×
✓

×

×
Singapore HDB Approved

✓

✓
×
✓
✓
×
×
✓
✓
✓
×
×
Singapore Setsco Tested
✓
✓
✓
✓
✓
✓
✓
✓
✓
✓
✓
✓
Fire Rated
4 hrs
4 hrs
4 hrs
4 hrs
4 hrs

2 hrs

2 hrs

2 hrs

4 hrs
4 hrs
4 hrs
4 hrs
Wet / Underwater Hole Applicable
✓
✓
✓
✓
✓
✓
✓
✓
✓
✓
✓
✓
Creep Test (Long Term 50 Years)
AC 308
AC 308
AC 308
AC 308
AC 308
No Info.
No Info.
No Info.
No Info.
No Info.
AC 58
AC 308
Working Time @ 30oC (32oC for G5)
20 mins
20 mins
20 mins

7 mins

8 mins

20 mins
20 mins
20 mins
20 mins
15 mins

8.5 mins

25 mins
Full Cure Time @ 30oC (32oC for G5)
6 hrs

8 hrs

8 hrs

5 hrs
6 hrs
6 hrs
6 hrs
6 hrs
6 hrs
4 hrs
2 hrs
7 hrs
Shelf Life
24 mths
12 mths
12 mths
24 mths
24 mths
24 mths
24 mths
No Info.
18 mths
18 mths
18 mths
24 mths
Resealable Hard Cartridge
✓

×

×
✓
✓
✓
✓
✓
✓
✓
✓
✓
UV Resistance Cartridge
✓
✓
✓
×
×
✓
✓
×
×
×
✓
✓
Major Track Record in Singapore
✓
✓
✓
✓
×
×
×
×
✓
×
✓
✓
Content Volume
585 ml
330 ml / 500ml
330 ml / 500ml
390ml / 585ml
600 ml
585 ml
620 ml
585 ml
585 ml
600 ml
650 ml
650 ml
Design Software

✓

(Beta Version)

✓
✓
✓
✓
✓
✓
✓
×
×
×
×
Note:
Best Overall
no Option 1
no HDB
approval
short working
time
short working
time
no HDB approval
no HDB
approval
no local
project
reference
no software
Low viscosity
short working
time
High
performance