PIAS Self-Drilling Screws
Introduction
The Technical Data presented in this PIAS Self-Drilling Fasteners Technical Data Manual is based on the numerous in-house test conducted by the FASTEN Technical Department and are all conducted in the laboratory environment. As national or international regulations do not cover all possible types of applications, on-site technical support and technical consulting services are required for different types of applications and base material. 
Base Material
There are many types of material available on site that requires different fastening conditions. PIAS SDS are designed to be the fastening solution for most of the different types of base material. On-site testing maybe require verifying the suitability or the loading capacity of the selected screw.
Screw Selection
1) Head Types: The choice of Head Types is based on the different types of applications for the SDS and the desired finished appearance of the fastened surface.
2) TPI: The choice of the number of Threads per Inch is based on the thickness of the base material.
3) Drill Point: The Drill Point is essential to the drilling capacity of the Self-Drilling Screw. It is important that specification of the appropriate fastener to be based on the loading and base material.
Types of Drill Point
Screw Size / Drilling Capacity and Base Material Thickness
#1 Point / Reduced Point: <2.5mm
#2 Point: 1.5mm to 4.5mm
#3 Point: 4.5mm to 6.0mm
#5 Point: Up till 13.0mm
Features of a PIAS screw
1) PIAS logo on the head of the screw: The original PIAS logo has a shallow imprint of the  "P" lightly marked on the head with a nonstandard font and is stamped like a watermark on the head.
2) The PIAS Patented Drill Point: PIAS Screws feature a second-generation symmetrical precision point. This point is formed perfectly and ensures that the screw drills with speed and precision.
3) The "S" Point: PIAS Screws all feature the "S" Point on the tip of the drilling point. This feature eliminates "walking" of the screw during installation and gives the installer more control over the screw. This effect is even more pronounced when the screw is being installed on a roof with a steeper profile or it is awkward angle.
4) High Hex: Another distinguishing feature found on the PIAS screws is the high hex dri makes it harder for the screw to pop out of the socket during installation by giving it a better sitting.
The Ruspert Coating 
The Ruspert™ coating is organic in nature and it is ceramic based, utilizes very advance chemicals and resins to achieve its ability to give unsurpassed corrosion resistance. The most remarkable feature of the Ruspert™ coating is that while the coating is extremely resistant to corrosion, it is very thin in nature (about 15-20 microns). This enables it to drill and cut through whatever materials with minimal resistance, preserving drill point integrity and ensuring maximum thread life. The Ruspert™ coating on the PIAS Carbon-Steel series conforms and exceeds the AS3566 – Australian standard for Self-Drilling screws for the building and construction industries (corrosion resistance) and exceeds the requirements for Class 3.
The Ruspert™ coating consists mainly of 3 layers. While the layers are independent and separate in nature, they are fused together by secondary chemical reactions which occur in between the layers, thus resulting in stronger adhesion and also consistency in thickness throughout the whole screw. This special process is patented and is a standard feature on PIAS carbon steel screws. The first layer is a layer of electroplated zinc. This layer of zinc gives the Ruspert™ coating its ability to "self-heal" in the event that the topcoat of ceramic layer is breeched. This layer also protects the base steel material by the self-sacrificing nature of Zinc.
The second layer is the Chromate conversion phase. This effect is commonly observed on Zinc plated products which have a yellowish-greenish appearance. The chromate conversion film inactivates/passivates the surface of the zinc layer by preventing it from forming the fine/near invisible layer of Zinc Oxide (ZnO) when it comes in contact with air.
The topmost layer is the ceramic layer. This layer acts like a tough "jacket" and protects the 2 layers below it. It intercepts any materials or circumstances that threaten to breech any layers and cause corrosion. It is non-metallic in nature which means that the screw is insulated from electrolytic or galvanic corrosion as well.
PIAS Fasteners Product Range
Accelerated Environmental Tests Compliance
Technical Data
Test Method:  
The fasteners were driven into cold rolled steel test plates of the stated thickness, lined with a steel socket pre-drilled with a clearance hole. The fasteners were then pulled by the laboratory tensile machine till failure. The stated values were obtained under laboratory conditions.
*All values obtained under laboratory conditions.
Tensile Resistance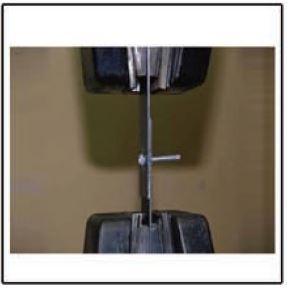 *All values obtained under laboratory conditions.
Material Chemical Composition
Installation Guidelines
A torque-controlled screwgun with a depth sensitive nosepiece should be used to install the self-drilling screws. For optimal fastener performance, the screwgun should be a minimum of 5 amps and have a RPM range of 0-2500.
Overdriving may result in torsional failure of the fastener or stripout of the substrate. 
The fastener must penetrate beyond the metal structure a minimum of 3 pitches of thread.
Recommended Drill Speed
Force Required for Installation
Drilling Thickness
Before we go into how to determine the thickness of material to be drilled, we have to understand that the drill point has to finish drilling and clear all the different layers before the screw thread can start to engage the material. With this in mind, we can now go into how to determine the screw thickness.
Single Layer
In a straightforward application where a single material is involved, the thickness to be drilled is simply the thickness of the material, expressed as t.
Single Sheet
In reality however, we always have to consider fastening something to something else. Thus in a practical application, if we need to fasten say a roofing sheet to the purlin, the combined thickness of both the sheet and purlin would have to be considered in determining t. 
Pre-drilled Top Layer
In the event that the overall thickness exceeds the maximum drill capacity of the screw, it is  possible to fasten this application by pre-drilling the top most layer(s). Thus for this case, t, to be considered would be limited to only those layers that have not been pre-drilled. 
Multiple layers
In other applications where insulation or other materials like architectural or composite panels are involved, we have to consider all the layers as one thick layer to be drilled through.
Layers with void
In applications with a void between the fastened sheet members, we have to consider the whole assembly as one thick layer.
Hexagonal Head
For fixing of Roofing and Cladding on to Structural Steel.
Screw Selection Chart
Wafer Head
For fixing of clip and locking roof systems and secret fix systems to Steel Structure. The Wafer Head combines secure fastening power and a low profile head so that clip locking or secret fix systems can simply lock or clip over it.
Screw Selection Chart
Pan Head
For fixing of Aluminium to Steel Structure in Façade or Curtain Wall Applications.
Screw Selection Chart
Countersunk Head
For fixing of Aluminium to Steel structure in Façade or Curtain Wall applications.
The Countersunk Head flush on fastenings and it finishes with a flat surface which enables other members to clear it or move over it.
Screw Selection Chart
Countersunk Head – Reamer
For fixing of wood/panel to steel structure. 
The special Reamer drill point has wings to bore a slightly bigger hole through the wood and upon contact with the steel underneath, the wings will snap off to enable a snug tapping.
Screw Selection Chart
Thin Truss Head
For easy fixing of thin Steel Sheet.
Fully-threaded shank engages the entire length of the fastener, providing a secure connection between the roof/façade and wall framing members.
PIAS Sharp 'S' Drill Point is designed to improve drilling ability through thin sheet metal. 
The Thin Truss Head allows the fastening of low profile sheet metal clips and ensures proper installation of metal roof panels.
Screw Selection Chart
Washers
Molded Washers
These are the simple normal types of washers. Our washers are all injection molded and they provide a secure and snug fit for our range of screws and for most applications.
Item
Material
Dimensions
 
MW10
EPDM

Gauge 10

O.D 10mm

  

MW12
EPDM

Gauge 12

O.D. 10mm

MW14
EPDM

Gauge 14

O.D. 12mm
Bonded Washers
These are EPDM rubber bonded to a metal backing which provides more support for a better seal.
Item
Sealing Material
Support Material
Dimensions
 

BW8/10-16 

*(A,S,I)

EPDM
Aluminium, Galvanised Steel, Stainless Steel 304

Gauge 8/10

O.D. 16mm

BW10/12-12

*(A,S,I)

EPDM
Aluminium, Galvanised Steel, Stainless Steel 304

Gauge 10/12

O.D. 12mm

BW12/14-14

*(A,S,I)

EPDM
Aluminium, Galvanised Steel, Stainless Steel 304

Gauge 12/14

O.D. 14mm

BW12/14-16

*(A,S,I)

EPDM
Aluminium, Galvanised Steel, Stainless Steel 304

Gauge 12/14

O.D. 16mm

BW12/14-19

*(A,S,I)

EPDM
Aluminium, Galvanised Steel, Stainless Steel 304

Gauge 12/14

O.D. 19mm

BW12/14-25

*(A,S,I)

EPDM
Aluminium, Galvanised Steel, Stainless Steel 304

Gauge 12/14

O.D. 25mm
*A – Aluminium, S – Galvanised Steel, I – INOX (SUS)
Specialty Washers
Also known as cyclonic washers. These are used for areas where heavy duty sealing and holding power is required.
Item
Sealing Material
Support Material
Dimensions

EW12/14-25

*(A,S,I)

Embossed Washer

EPDM
Aluminium, Galvanised Steel, Stainless Steel 304 
Gauge 12/14 O.D 25mm

CW12/14-D

*(A,S,I)

For Spandek or Trimdek

EPDM
Aluminium, Galvanised Steel, Stainless Steel 304 
Gauge 12/14 O.D 36mm

CW12/14-K

*(A,S,I)

For Kliplok

EPDM
Aluminium, Galvanised Steel, Stainless Steel 304 
Gauge 12/14 O.D 30mm